anak ku maryam bacalah, rapuan yang ibunda karangi
di hari yang ke 50, mommy tido 2 jam jer semalam. pagi masa maryam tido mommy kene bangun masak-masak pulak. eh. bukan lah mommy masak beria sangat pon. ayah cik yang masak, tapi still tak boleh tido lah sebab mommy kene jadi juru sediakan bahan. ayah cik masak daging goreng kunyit ngan telur dadar. mommy buat tomyam guna paste jer. siap jer mommy masak maryam sedar nak susu. sekarang maryam tido. tapi kejap lagi mommy nak kejut maryam. kita mandi,then tido sama-sama ok~
dah 50 hari dah maryam. maryam dah 5kg sekarang. lengan ngan pergelangan tangan mommy sakit sekarang ni. sebab angkat maryam kut. lama-lama ade harapan mommy ade otot berketul-ketul kat lengan sebab angkat maryam 100 kali sehari. huk huk
kalau mommy kerja, (kalau ok, kalau) mesti sekarang ni mommy tengah susah hati nak tinggal maryam. sebab dah tak lama dah nak start kerja. sekarang sila bersyukur mommy tak kerja. huhu
best friend mommy masa sekolah rendah dulu mak dia tak kerja. susah jugak lah hidup dia kalau nak compare ngan mommy sebab ayah dia sorang jer kerja. kereta pon dia tak ade dulu. masa muda-muda mak dia pernah dapat offer jadi nurse, tapi mak dia tolak. so bf mommy tu selalu cakap kat mommy, kalau mak dia jadi nurse, mesti dia dah ade kereta.
mommy pulak mak kerja. kerja pulak jenis yang ofis hour kerja, pastu oncall pulak. memang mak tok buzy macam sekarang dari dulu lagi. tapi tak pe, mommy ade awoh. sebab tu mommy lagi rapat dengan awoh dari mak tok. kadang-kadang mommy jeles jugak ngan kawan mommy tu sebab mak dia masak sedap-sedap. mommy paling suka donut mak dia buat. lembut jer. sedap! tapi kelebihan mommy, sebab dua-dua kerja jadi mommy adik beradik tak pernah rasa susah lah. duit mintak jer ngan mak tok.
hah. begitu lah maryam. dalam dunia ni kita tak boleh dapat semua. kalau dah lebih kat situ adelah terkurang kat mana-mana.
kalaulah suatu hari nanti mommy kerja, and mommy buzy tak boleh nak bagi sepenuh perhatian kat maryam, bukan mommy tak sayang maryam tau. mommy kerja cari duit untuk masa depan maryam jugak. tapi kalau boleh walaupon mommy kerja, makan minum family kita mommy tetap nak sediakan.
and KALAULAH memang ditakdirkan mommy tak kerja. kita tak banyak duit tak boleh nak mewah-mewah macam orang lain jangan salahkan mommy pulak tau. huhu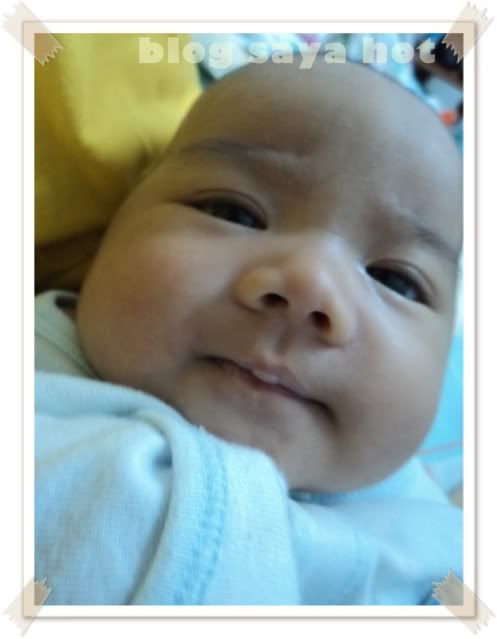 muka makin chubby, tapi badan idok lah naik sangat. pipi jer dah 2 kg kot
kalau siang, tido tak ingat.
bestnya kalau tiba-tiba duit satu jota jatuh depan rumah.